First Chords
With regard to the tangibility of chords different instruments are preferred to special keys, for a beginner on the ukulele the simplest chords, depending on the tuning, are to play in the key of C major and A minor (C-Tuning), or in the key of D major and B minor (D-Tuning). In principle, all keys can be played - with a little practice.

C-Tuning (so-called Hawaiian standard)

C
Basic /Tonic
Am
Tonic-Parallel
F
Subdominant
Dm
Subdominant-
Parallel
G
Dominant
Em7
Dominant-
Parallel

a-string
e-string
c-string
g-string

|-|-|3|-|
|-|-|-|-|
|-|-|-|-|
|-|-|-|-|
|-|-|-|-|
|-|-|-|-|
|-|-|-|-|
|-|2|-|-|
|-|-|-|-|
|1|-|-|-|
|-|-|-|-|
|-|2|-|-|
|-|-|-|-|
|1|-|-|-|
|-|3|-|-|
|-|2|-|-|
|-|3|-|-|
|1|-|-|-|
|-|2|-|-|
|-|-|-|-|
|-|3|-|-|
|-|-|-|-|
|-|2|-|-|
|-|-|-|-|
D-Tuning (traditional standard, still in Canada and Europe)

D
Basic / Tonic
Bm
Tonic-Parallel
G
Subdominante
Em
Subdominant-
Parallel
A7
Dominante
F#m7
Dominant-
Parallel

b-string
f#-string
d-string
a-string

|-|-|3|-|
|-|-|-|-|
|-|-|-|-|
|-|-|-|-|
|-|-|-|-|
|-|-|-|-|
|-|-|-|-|
|-|2|-|-|
|-|-|-|-|
|1|-|-|-|
|-|-|-|-|
|-|2|-|-|
|-|-|-|-|
|1|-|-|-|
|-|3|-|-|
|-|2|-|-|
|-|3|-|-|
|1|-|-|-|
|-|2|-|-|
|-|-|-|-|
|-|3|-|-|
|-|-|-|-|
|-|2|-|-|
|-|-|-|-|
The point of view is as shown by the picture in the left. Numerals denote the following fingers: 1=indexfinger, 2=middlefinger, 3=ringfinger. My fingersettings may differ from most chord tables, but they are more practicable for any changing to other chords. With these few chords you are able to accompany a lot of tunes - many simple songs actually need only two chords!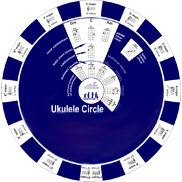 All keys, both, in C- and D-Tuning gathered in my so called Ukulele Circle This is a key circle, also known as circle of quints (circle of fifths), showing 11 chords in each key. It is helpfully for understanding harmonic structures, and for transposing the key of a song. In addition you can listen how the chords sound by clicking on the chord pattern. It works as Macromedia Flash Player
- online since 2004, but revides with better sound examples in 2012.

Another very useful tool is the Chordfinder by Marcel van der Zwet. It is also playable as Macromedia Flash Player
- For Windows you can donload here chordfinder.exe (980 kb). For a Mac version go to Ukulele Players Worldwide or google the website of the artist.